Stand Up Paddle Board Sales
With fresh designs that lure all eyes, Smooth™ stand up paddle boards are beautifully hand-crafted and designed with the novice and professional user in mind. We carry paddle boards for sale in the following 3 Smooth™ models, each with its own style and feel:
Price: $899
Chino – "Designed with a little edge"
Price: $899
Bomber – "Modern take on a traditional look"
Price: $899
Meli'a – "One for the ladies"
Not only are our SUP boards attractive, but they are also durable and help with the learning process. Made from lightweight fiberglass and covered with a strong epoxy, each Smooth™ paddle board should last for years, as long as proper maintenance is performed on it regularly. Because each SUP is as durable as a surf board, they can take a pretty good beating. The main difference is that stand up paddle boards are wider, longer, and thicker, making the learning process much easier. Combine the ease of use with a matching carbon composite paddle and you'll have every essential piece to enjoying a unique experience on the surf.
SUP Sales
As an early form of a surf board, a stand up paddle board is an exciting and unique way to experience the ocean. Although it's an old practice, in recent years using a stand up paddle board has grown in popularity all across the country, including Fort Lauderdale and the rest of Florida. Stand up paddle boards are actually one of the most popular watersport activities. At American Watersports we offer jet ski rentals, stand up paddleboard rentals, and stand up paddleboards for sale. Whether you want to rent an SUP for a day's worth of family fun or buy cheap paddle boards to spend your summers on, American Watersports can get you into the increasingly popular sport of stand up paddle board riding. Contact us today and ask about the available Smooth™ paddleboards for sale at our location in Ft Lauderdale.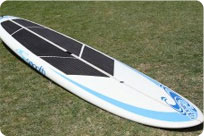 SUP Storage
Because the length of an SUP is substantially longer than that of a surfboard, finding ample room for storage can be troublesome, especially if you have limited space to begin with. At American Watersports, we offer SUP storage facilities for your stand up paddle boards. No longer will you have to struggle with dragging your board around, securing it to your vehicle, and cycling through the process; American Watersports' location in Pompano Beach will store your stand up paddle board for you so you can come enjoy the water and the breeze at any time.
Paddleboard Rentals and More
Along with SUP sales, American Watersports also provides a number of rental paddleboards, kayak rentals, and beach furniture rentals. Contact us for more information about our Fort Lauderdale SUP sales and experience a truly unforgettable way to indulge in the ocean air. Who knows? Maybe you'll even snag the wave of a lifetime.